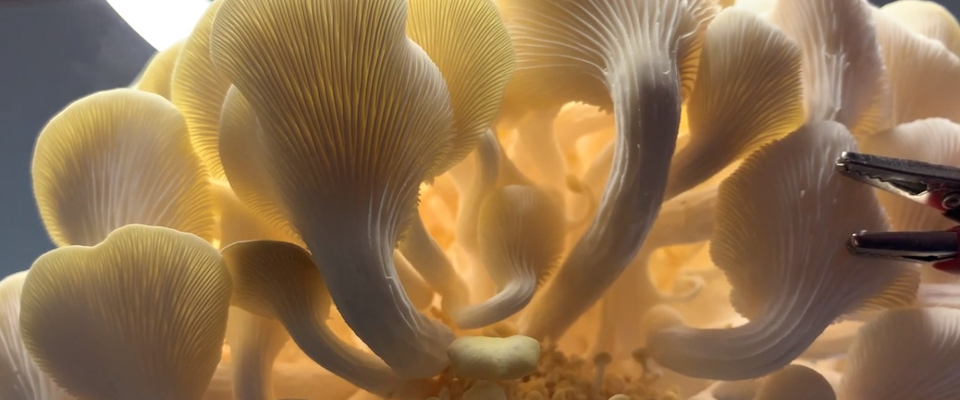 The Secret Sounds Of Mushrooms: The Octopus Project Talks About Making Music With Mushroom Collaborators
Every living thing gives off electricity. It's a fact that shouldn't be buried in boring textbooks but displayed in gigantic, neon letters at the front of the classroom. When you learn that "every living thing gives off electricity," it leaves you in awe, and your mind starts to make interesting connections, spreading like mycelium. Soon the next question arrives. "Cool. Then can mushrooms make music?"
Nature has inspired musicians for centuries, but recent history has proven to be a particularly fertile time. Experimental composer John Cage was a dedicated amateur mycologist, going so far as to publish a book of recipes, photos, and essays about the musicality of mushrooms in 1972. There's also Mother Earth's Plantasia, a 1976 album of childlike synthesizer music by Mort Garson that somewhat dubiously claimed to help your plants grow. And Stevie Wonder capped off the 1970s (and his chart-topping run of albums) with Journey Through The Secret Life Of Plants, a documentary soundtrack featuring ninety minutes of bizarre, electro-funk plant worship, all from the man who brought you "Sir Duke."
But in 2021, musicians aren't content with merely playing for plants—they're playing with plants. The Octopus Project is no stranger to taking wonderful, science-adjacent ideas like these and running with them. The band—Yvonne Lambert, Josh Lambert, Toto Miranda, and Mari Rubio—is known for its wildly-creative live shows, like those for the 2010 album Hexadecagon, which featured eight loudspeakers surrounding the members while eight projectors showed videos synced to the music.
Like a fungal network, the band's interest in mushrooms doesn't have a definitive starting point, but the project first started sprouting in Peru in 2019. There, Yvonne and Josh met a friend who had a MIDI biodata sonification device, which measures electrical fluctuations through sensors attached directly to any living thing—plant, fungus, or otherwise. That data is then translated into MIDI notes, which can be played by a synthesizer or computer software. They drove around the Sacred Valley, home to Machu Picchu, and started testing the device on various plants, amazed at the possibilities opening before their ears. Yvonne and Josh quickly bought a sonification device as soon as they got back to Austin, and the process of playing music with mushrooms has been inspiring. "The sky's the limit with this," says Josh. "There's a ton of stuff that can be mined from this idea."
Read more of my fascinating interview with the Octopus Project at KUTX.
---
Date
April 26, 2021
---
---